Overview of medical grade steel wire
Product Detail
Product Tags
Compared with the industrial structure in stainless steel, Medical stainless steel need to maintain excellent corrosion resistance in human body, to reduce the metal ions, dissolution, avoid intergranular corrosion, stress corrosion and local corrosion phenomenon, prevent fracture resulted from implanted devices, ensure the safety of the implanted devices. Therefore, its chemical composition requirements are more stringent than industrial stainless steel. Medical stainless steel especially implanted in human body, Ni and Cr alloy element content were higher than ordinary stainless steel (usually meet the upper limit requirements of ordinary stainless steel). The content of impurity elements such as S and P is lower than that of ordinary stainless steel, and it is clearly stipulated that the size of non-metallic inclusions in steel should be less than grade 115 (fine system) and grade 1 (coarse system) respectively, while the standard of ordinary industrial stainless steel does not put forward special requirements for inclusions.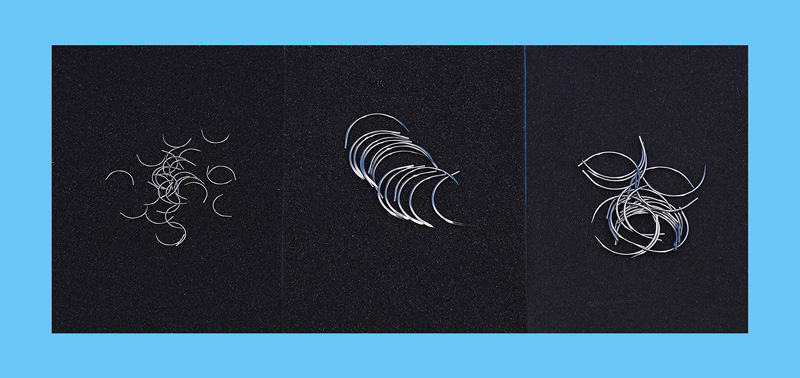 Medical stainless steel has been widely used as medical implant material and medical tool material because of its good biocompatibility, good mechanical properties, and excellent corrosion resistance of body fluids and good processability. Medical stainless steel is widely used to make various artificial joint and fracture internal fixation instruments, such as all kinds of artificial hip, knee, shoulder, elbow joint; In dentistry, it is widely used in dental dentistry, dental orthotics, dental root implantation; In cardiac surgery, it is used in cardiovascular stent. In addition to making a variety of surgical implants, medical stainless steel is also used for producing a variety of medical surgical instruments or tools, like surgical sutures.
Different grade steel brings the different performance on sutures needles, but all these can meet the lowest requirement of safe surgery.
Following chart lists medical stainless steel which mostly to be used in surgical sutures needles.
| | | | | | | | | | | | | | | | |
| --- | --- | --- | --- | --- | --- | --- | --- | --- | --- | --- | --- | --- | --- | --- | --- |
| Element Material | C | Si | Mn | P | S | Ni | Cr | N | Cu | Mo | Fe | Al | B | Ti | Cb |
| 420J2 | 0.28 | 0.366 | 0.440 | 0.0269 | 0.0022 | 0.363 | 13.347 | / | / | / | Balance | / | / | / | / |
| 455 | 0.05 | 0.5 | 0.5 | 0.04 | 0.03 | 7.5-9.5 | 11.0-12.5 | / | 1.5-2.5 | 0.5 | 71.98-77.48 | / | / | 0.8-1.4 | 0.1-0.5 |
| 470 | 0.01 | 0.040 | 0.020 | 0.0020 | 0.0230 | 11.040 | 11.540 | 0.004 | 0.010 | 0.960 | Balance | 0.090 | 0.0022 | 1.600 | 0.01 |
| 302 | ≤0.15 | ≤1.0 | ≤2.0 | ≤0.045 | ≤0.03 | 8.0-10.0 | 17.0-19.0 | / | / | / | Balance | / | / | / | / |
| 304AISI | ≤0.07 | ≤1.0 | ≤2.0 | ≤0.045 | ≤0.015 | 8.0 -10.5 | 17.5-19.5 | ≤0.11 | / | / | Balance | / | / | / | / |
---
Previous:
420 stainless steel Needle
Next:
Staright Abutment
---
Write your message here and send it to us