WEGO Surgical Needle – part 1
Product Detail
Product Tags
Needle can be classified into taper point, taper point plus, taper cut, blunt point, Trocar, CC, diamond, reverse cutting, premium cutting reverse, conventional cutting, conventional cutting premium, and spatula according to its tip.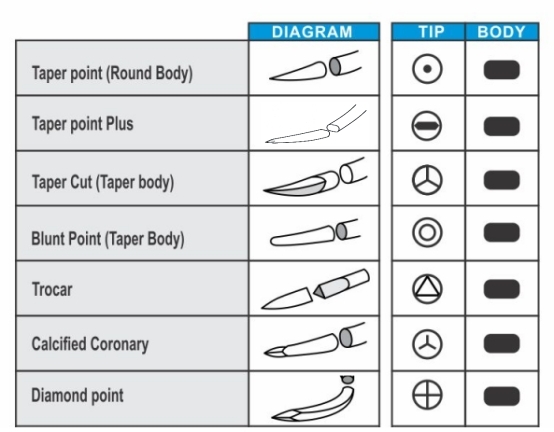 1. Taper Point Needle
This point profile is engineered to provide easy penetration of intended tissues. Forceps flats are formed in an area half way between the point and the attachment, Positioning the needle holder in this area confers extra stability on the needle being held, aiding precise placement of the sutures. Taper Point needles are available in a range of wire diameters and the finer diameters can be used for softer tissue in gastro intestinal or vascular procedures whereas heavier diameters are required for tougher tissue such as muscle.
Sometimes also called Round Body.
2. Taper Point Plus
A modified point profile for some of our smaller round bodied intestinal type needles, typically for needles in the size range 20-30mm. In the modified profile, the tapered cross section immediately behind the tip has been flattened to an oval shape rather than a conventional round shape. This continues for several millimeters before merging into the conventional round bodied cross section. This design was developed to help facilitate improved separation of tissue layers.
3. Taper Cut Needle
This needle combines the initial penetration of a cutting needle with the minimized trauma of a round bodied needle. The cutting tip is limited to the point of the needle, which then tapers out to merge smoothly into a round cross section.
4. Blunt Point Needle
This needle has been designed for suturing extremely friable tissue such as the liver. As round blunt point offers a very smooth penetration that minimize the damage to liver cell.
5. Trocar Needle
Based on the traditional TROCAR POINT, this needle has a strong cutting head which then merges into a robust round body. The design of the cutting head ensures powerful penetration, even when deep in dense tissue. The cutting edge is longer than Taper Cut that provide a continue cut to the tissue.
6. Calcified Coronary Needle / CC needle
The unique design of the CC Needle point provides significantly improved penetration performance for the Cardiac/Vascular surgeon when suturing tough calcified vessels. And no increase in tissue trauma compared to the conventional Round bodied needle. Squared body geometry, in addition to providing a stronger fine vascular needle, also means this needle is particularly secure in the needle holder.
7. Diamond Point Needle
Special design 4 cutting edges on the needle point provides a high penetration while suturing tendon and orthopedic surgery. Also provide much stable penetration while sutures the very hard tissue/bone. Mostly armed with Stainless Steel Wire sutures.
---
Previous:
WEGO Wound Care Dressings
---
Write your message here and send it to us