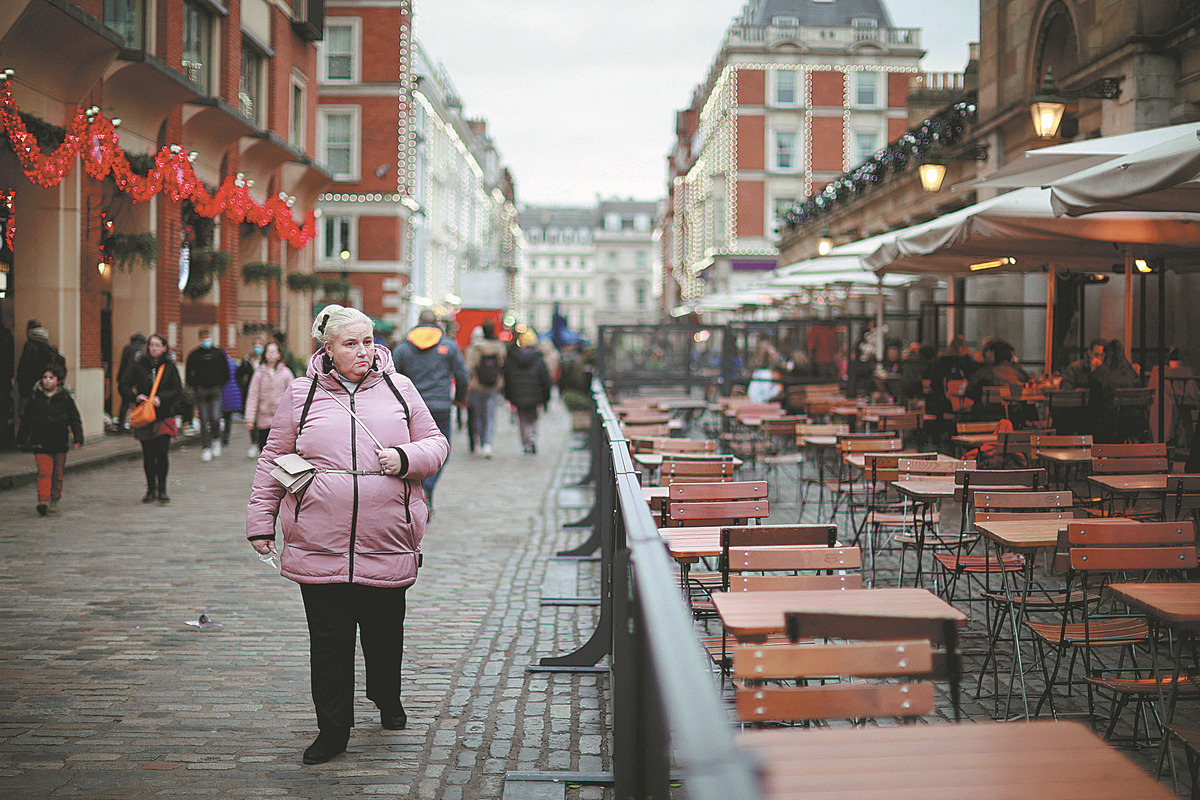 London takes on a somber mood on Monday. British Prime Minister Boris Johnson said he will tighten coronavirus curbs to slow the spread of the Omicron variant if needed. HANNAH MCKAY/REUTERS
Don't risk grieving, agency boss says in plea to stay home as variant rages
The World Health Organization has advised people to cancel or delay holiday gatherings as Omicron, the highly transmissible COVID-19 variant, spreads fast in Europe and other parts of the world.
WHO Director-General Tedros Adhanom Ghebreyesus issued the guidance at a news conference in Geneva on Monday.
"All of us are sick of this pandemic. All of us want to spend time with friends and family. All of us want to get back to normal," he said. "The fastest way to do this is for all of us leaders and individuals to make the difficult decisions that must be made to protect ourselves and others."
He said this response would mean canceling or delaying events in some instances.
"But an event canceled is better than a life canceled," Tedros said. "It's better to cancel now and celebrate later than to celebrate now and grieve later."
His words came as many countries in Europe and other parts of the world struggle to tackle the fast-spreading variant ahead of the Christmas and New Year holidays.
The Netherlands on Sunday imposed a nationwide lockdown, lasting to at least Jan 14. Nonessential shops and hospitality venues must close and people are limited to two visitors aged 13 or over each day.
Germany is also expected to introduce new restrictions to limit public gatherings to a maximum of 10 people, with tougher rules for unvaccinated people. New measures will also close nightclubs.
On Sunday, Germany tightened measures on travelers from the United Kingdom, where new infections are skyrocketing. Airlines are banned from carrying UK tourists to Germany, taking only German citizens and residents, their partners and children as well as transit passengers. Arrivals from the UK will need a negative PCR test and be required to quarantine for 14 days even if they are fully vaccinated.
France has also adopted tough measures for travelers from the UK.They must have a "compelling reason" for the trips and show a negative test less than 24 hours old and be isolated for at least two days.
The UK reported 91,743 new COVID-19 cases on Monday, the second highest daily number since the start of the pandemic. Of those, 8,044 were confirmed Omicron variant cases, according to the UK Health Security Agency.
Belgium is likely to announce new measures at a national Consultative Committee meeting on Wednesday.
Federal Health Minister Frank Vandenbroucke said the authorities are "thinking very hard" about the possibility of taking lockdown measures similar to those announced in neighboring Netherlands.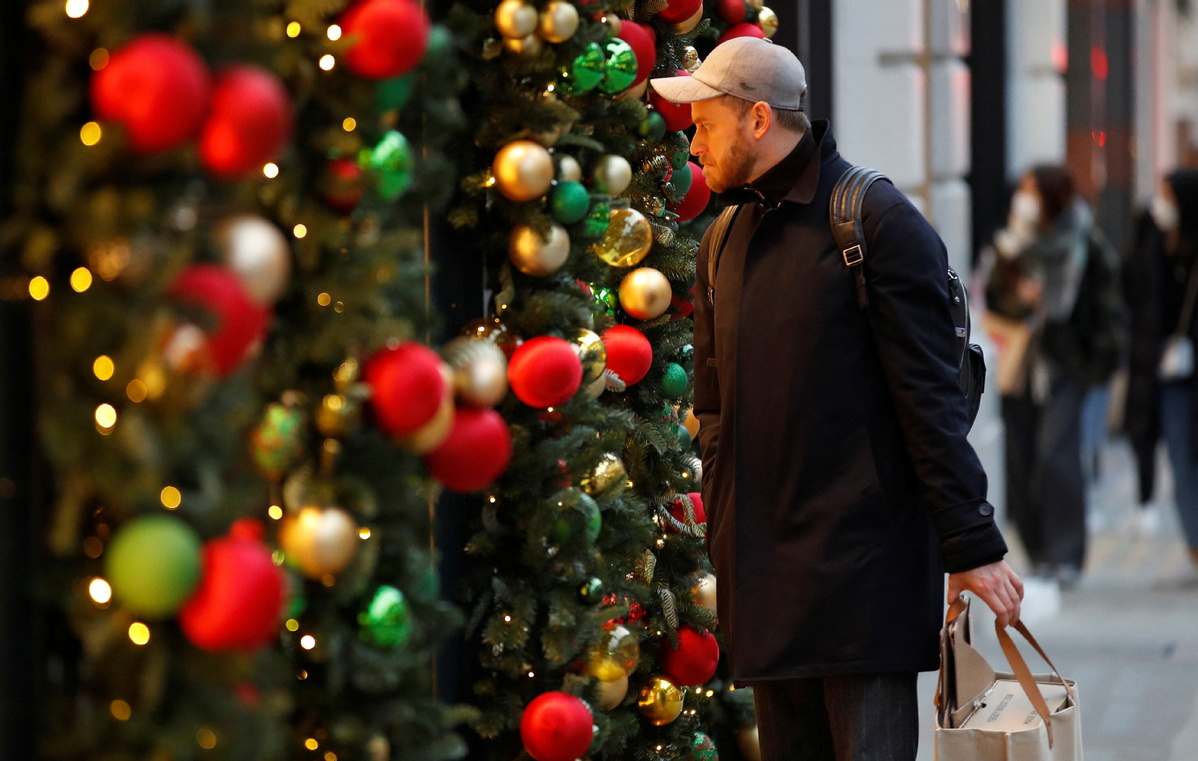 A man looks into a store decorated for Christmas on New Bond Street amid the coronavirus disease (COVID-19) outbreak in London, Britain, Dec 21, 2021. [Photo/Agencies] 
5th vaccine authorized
On Monday, the European Commission granted conditional marketing authorization for Nuvaxovid, a COVID-19 vaccine by US biotech firm Novavax. It is the fifth vaccine authorized in the EU after those by BioNTech and Pfizer, Moderna, AstraZeneca and Janssen Pharmaceutica.
The commission also announced on Sunday that EU members will get an additional 20 million doses of the Pfizer-BioNTech vaccine in the first quarter of 2022 to fight the variant.
Tedros stressed on Monday that Omicron is spreading "significantly faster" than the Delta variant.
WHO Chief Scientist Soumya Swaminathan warned that it is too early to conclude that Omicron is a milder variant, as some reports have suggested. She said preliminary studies show that it is more resistant to vaccines currently used to fight the pandemic.
Omicron, first reported just a month ago in South Africa, has been detected in 89 countries and the number of Omicron cases is doubling every 1.5 to 3 days in areas with community transmission, the WHO said on Saturday.
The World Economic Forum will defer its 2022 annual meeting from January to early summer due to the concerns caused by the Omicron variant, it said on Monday.
Agencies contributed to this story.
---
Post time: Dec-27-2021