Visitors pose with snowmen at Sun Island Park during a snow art expo in Harbin, Heilongjiang province. [Photo/CHINA DAILY]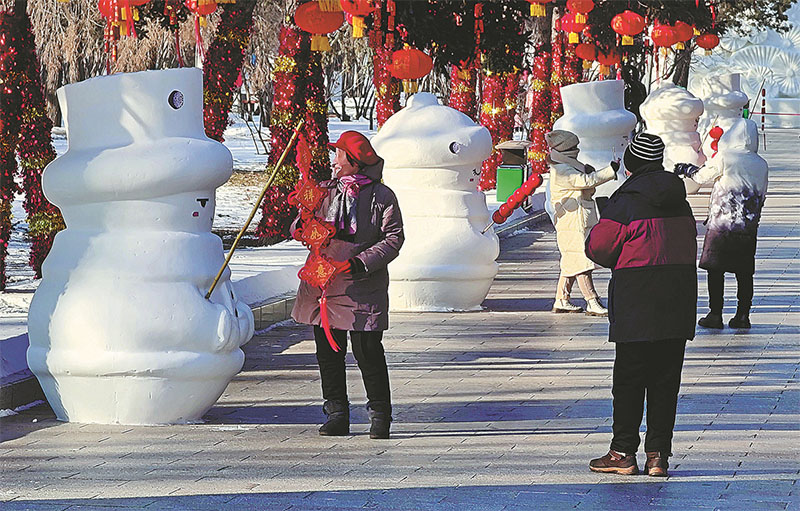 Residents and tourists in Harbin, capital of Northeast China's Heilongjiang province, can easily find unique wintertime experiences through its ice and snow sculptures and rich entertainment offerings.
At the 34th China Harbin Sun Island International Snow Sculpture Art Expo at Sun Island Park, many visitors are drawn to a group of snowmen when entering the park.
Twenty-eight snowmen in the shapes of small children are distributed throughout the park, with various vivid facial expressions and ornaments featuring traditional Chinese festival elements, such as red lanterns and Chinese knots.
The snowmen, standing around 2 meters tall, also provide great angles for visitors to take photos.
"Every winter we can find several giant snowmen in the city, some of which can be as tall as nearly 20 meters," said Li Jiuyang, the 32-year-old designer of the snowmen. "The giant snowmen have become well known among local residents, tourists and even those who have never come to the city.
"However, I found that it was difficult for people to take good photos with the giant snowmen, whether they stood far away or near, because the snowmen are really too tall. Therefore, I got the idea of making some cute snowmen that can provide tourists with a better interactive experience."
The expo, with an area of 200,000 square meters, is divided into seven parts, providing tourists with a variety of snow sculptures made from more than 55,000 cubic meters of snow.
Five workers following Li's directions spent a week completing all the snowmen.
"We tried a new method that is different from the traditional snow sculptures," he said. "Firstly, we made two molds with fiber reinforced plastics, each of which can be divided into two parts."
The workers put about 1.5 cubic meters of snow into the mold. Half an hour later, the mold can be picked off and a white snowman is completed.
"To make their facial expressions more vivid and keep longer, we chose photographic paper to make their eyes, noses and mouths," Li said. "Furthermore, we made colorful ornaments to express a traditional Chinese festival atmosphere to greet the upcoming Spring Festival."
Zhou Meichen, an 18-year-old college student in the city, visited the park on Sunday.
"Due to concerns about health security on long journeys, I decided to spend my winter vacation at home instead of traveling outside," she said. "I was surprised to find so many cute snowmen, even though I grew up with snow.
"I took lots of photos with the snowmen and sent them to my classmates who have returned to their homes in other provinces. I feel quite happy and honored to be a resident of the city."
Li, who runs a company focusing on urban landscape design and operation, said the new method of making snow sculptures is a good opportunity to expand his business.
"The new method can greatly reduce the cost of this type of snow landscaping," he said.
"We set a price of around 4,000 yuan ($630) for each snowman using the traditional snow sculpture method, while a snowman made with the mold can cost as little as 500 yuan.
"I believe this kind of snow landscaping can be well promoted outside the specialized snow sculpture park, such as in residential communities and kindergartens. Next year I will try to design more molds with different styles, such as Chinese zodiac and popular cartoon images."
---
Post time: Jan-18-2022