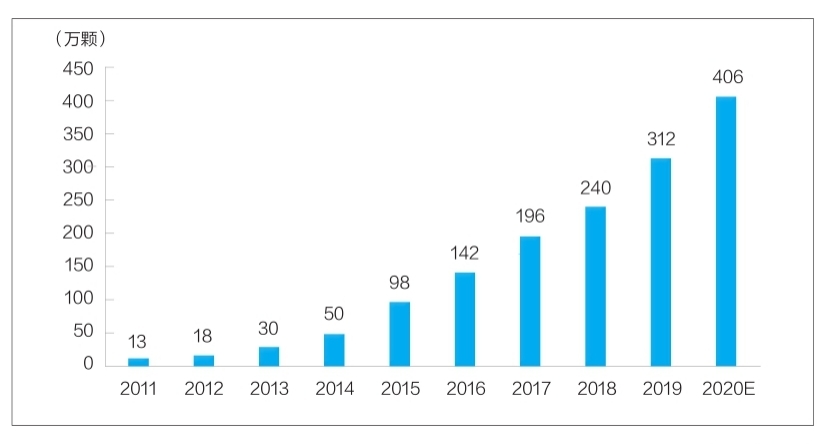 Figure : Number of dental implants in China from 2011 to 2020 (tens of thousands)
At present, dental implants have become a routine way of repairing tooth defects. However, the high cost of dental implants has kept its market penetration low for a long time. Although domestic dental implant R&D and production enterprises are still facing technical bottlenecks, driven by multiple factors such as policy support, medical environment improvement, and demand growth, China's dental implant industry is expected to usher in rapid development, and local enterprises will accelerate their rise and promote low prices. High-quality dental implant products benefit more patients.
Material research and development is hot
Dental implants are mainly composed of three parts, namely, the implant that is inserted into the alveolar bone tissue to act as the root, the restorative crown that is exposed on the outside, and the abutment that connects the implant and the restorative crown through the gums. In addition, in the process of dental implants, bone repair materials and oral repair membrane materials are often used. Among them, implants belong to human implants, with high technological content and technical requirements, and occupy a core position in the composition of dental implants.
The ideal implant material should have safety characteristics such as non-toxicity, non-sensitization, non-carcinogenic teratogenicity, and excellent biocompatibility, corrosion resistance, wear resistance, and mechanical properties.
At present, the materials used in implant products listed in China mainly include quaternary pure titanium (TA4), Ti-6Al-4V titanium alloy and titanium zirconium alloy. Among them, TA4 has better material properties, can effectively meet the conditions for the function of oral implants, and has a wide range of clinical applications; Compared with pure titanium, Ti-6Al-4V titanium alloy has better corrosion resistance and machinability, and has more clinical applications, but it may release a very small amount of vanadium and aluminum ions, causing harm to the human body; Titanium-zirconium alloys have a short clinical application time and are currently only used in a few imported products.
It is worth noting that researchers in related fields are constantly researching and exploring new implant materials. New titanium alloy materials (such as titanium-niobium alloy, titanium-aluminum-niobium alloy, titanium-niobium-zirconium alloy, etc.), bioceramics, and composite materials are all current research hotspots. Some of these materials have entered the stage of clinical application and have good development expectations.
The market size is growing rapidly and the space is large
At present, my country has become one of the fastest growing dental implant markets in the world. According to the "2020 China Oral Medical Industry Report" released by Meituan Medical and MedTrend and its subsidiary Med+ Research Institute, the number of dental implants in China has increased from 130,000 in 2011 to about 4.06 million in 2020. The growth rate reached 48% (see chart for details)
From the consumer point of view, the cost of dental implants mainly includes medical service fees and material fees. The cost of a single dental implant ranges from several thousand yuan to tens of thousands of yuan. The price difference is mainly related to factors such as dental implant materials, the consumption level of the region, and the nature of medical institutions. The transparency of various subdivision costs in the industry is still low. According to the calculation of Firestone, by synthesizing the price levels of dental implants in different regions and medical institutions of different levels in the country, assuming that the average cost of a single dental implant is 8,000 yuan, the market size of my country's dental implant terminal in 2020 is about 32.48 billion yuan.
It should be noted that from a global perspective, the penetration rate of my country's dental implant market is still at a low level, and there is a lot of room for improvement. At present, the penetration rate of dental implants in South Korea is more than 5%; the penetration rate of dental implants in European and American countries and regions is mostly above 1%; while the penetration rate of dental implants in my country is still less than 0.1%.
From the perspective of the market competition pattern of core material implants, currently, the domestic market share is mainly occupied by imported brands. Among them, South Korea's Aototai and Denteng occupy more than half of the market share by virtue of price and quality advantages; the rest of the market share is mainly occupied by European and American brands, such as Switzerland's Straumann, Sweden's Nobel, Dentsply Sirona, Han Ruixiang, Zimmer Bangmei et al.
Domestic implant companies are currently less competitive and have not yet formed a competitive brand, with a market share of less than 10%. There are two main reasons. First, the domestic implant research and development enterprises have been in the field for a short time, and they lack accumulation in terms of clinical application time and brand building; Second, there is a big gap between domestic implants and high-end imported products in terms of material application, surface treatment process and product stability. Recognition of domestic implants. It can be seen that the localization rate of implants needs to be improved urgently.
Multiple factors benefit the development of the industry
Dental implants have high consumption attributes, and their industry development is closely related to the level of personal disposable income. In my country's economically developed first-tier cities, due to the high per capita disposable income of residents, the penetration rate of dental implants is significantly higher than that in other areas. Data from the National Bureau of Statistics shows that in recent years, the per capita disposable income of residents across the country has steadily increased, from 18,311 yuan in 2013 to 35,128 yuan in 2021, with a compound annual growth rate of over 8%. This is undoubtedly the internal driving force driving the growth of the dental implant industry.
The growth in the number of dental medical institutions and dental practitioners provides a medical foundation for the development of the dental implant industry. According to the China Health Statistical Yearbook, the number of private dental hospitals in my country has increased from 149 in 2011 to 723 in 2019, with a compound annual growth rate of 22%; in 2019, the number of dental practitioners and assistant physicians in my country reached 245,000 People, from 2016 to 2019, the compound annual growth rate reached 13.6%, achieving rapid growth.
At the same time, the development of the medical industry is obviously affected by the policy. In the past two years, the state and local governments have carried out centralized procurement of medical consumables for many times, which has greatly reduced the terminal price of medical consumables. In February this year, the State Council Information Office held a regular briefing on the progress of the reform of the centralized procurement of drugs and high-value medical consumables. The centralized procurement plan has basically matured. As a high-value product in the field of oral materials, if dental implants are included in the scope of centralized procurement, there will be a significant price drop, which will help to promote demand release.
In addition, once dental implants are included in the centralized procurement, it will have an important impact on the domestic dental implant market, which will help domestic companies to rapidly increase their market share and stimulate the accelerated development of the domestic implant industry.
---
Post time: Jul-23-2022