Non-Sterile Monofilament Absoroable Polyglecaprone 25 Sutures Thread
Product Detail
Suture Materials
Product Tags
Non sterile Wego-PGCL thread
Catgut is the major absorbable sutures since developed by the absorption property with trust from surgeons. B.S.E brings deeply impact to the Medical Device industrial. Not only the Europe Commission, but also Australia and even some Asian countries raised the bar for the medical device contains or made by animal source, which almost closed the door. The industrial has to think about to replace current animal sourced medical devices by new synthetic materials. Plain Catgut which has a very big market need to replace after banned in Europe, under this situation, Poly(glycolide-co-caprolactone)(PGA-PCL)(75%-25%) , short write as PGCL, was developed as has higher safety performance by the hydrolysis which much better than Catgut by Enzymolysis.
Poly(glycolide-co-caprolactone) is synthetic biodegradable copolymer, mainly used on medical devices like implants, sutures, prosthetic devices, scaffolds for tissue engineering application, micro and nanoparticles. While making sutures, this material has the property that hydrolyzed to make the thread lose polymerization force very quickly, it shows the Retention strength lower than 50% in less than 14 days after implant, which similar with Plain Catgut on the absorption profile.
The Marketing of Non Sterile Wego-PGCL Thread makes Wegosutures becomes a new supplier to all the suture manufacturers.
Non Sterile Wego-PGCL was made by medical grade material, precisely extruding Monofilament ensure the smoothness of the surface, much better accepted by surgeons. The non-stop extrusion technology makes the whole thread out of the possibility on weak point which happened on the Plain Catgut, since Catgut was made by twisted short strands cut from casing. Unique Micro Surface Treatment developed by Wegosutures brings higher smoothness compare with the competitor products under the microscope, especially benefit the plastic surgery.
Similar color with Plain Catgut, Poly(glycolide-co-caprolactone)(PGA-PCL)(75%-25%), PGCL original color as light yellow close to gold color, in some cases, dyed violet to keep the same color with other synthetic absorbable sutures. A little bit elastic property makes the thread higher knot security, an ideal material applied in urological surgery.
Every batch Non Sterile Wego-PGCL thread was released only after In-Vitro-Degradation test fully conformity with the standard on absorption file. Packed by plastic can with Aluminum Pouch and 500-1000 meters per reel, validated that safety pack on 5 years. Every reel owns extra 1-2% in length.
With the competition goes in the market, we are open to provide OEM/ODM base on the requirement of clients on Size Range, Softness, Smoothness and other parameters.
Features
Material: Poly(glycolide-co-caprolactone)(PGA-PCL)(75%-25%)
Coated by: non coated
Structure: monofilament by extruding
Color (recommended and option): Undyed; Violet D&C No.2
Available size range:USP Size 6/0 up to No.2#
Mass absorption: 90- 110 days
Tensile Strength Retention: 65% at 7 days after implantation; 40% at 14 days after implantation; 0% at 28 days after implantation.
Package: 500 Meter Per Reel, One Reel per Alu Pouch, One Reel per Can. 8 Reels per Carton.
Minimize Order Quantity: 8 Reels per order.
Recommended Storage Conditions: 1-5 degree centigrade.
The shelf life of Non Sterile Wego-PGCL thread is 5 years. COA with all shipments.
---
---
From very beginning when surgical suture was developed that applied for wound close, it has save billions life and also driven the advancement of medical treatment. As a basic medical devices, sterile surgical sutures widely used and become very common in almost every department in the hospital. As the importance it has, surgical sutures probably is the only medical devices was defined in the Pharmacopeia, and it really not easy to conformity with the requirement.
The market and supplying was shared by major manufacturers and brands, Johnson & Johnson, Medtronic, B.Braun leading the market. In the most countries, these three leaders owns over 80% market share. There are also almost 40-50 manufacturers from the developed countries, like Europe Union, USA, Japan, Australia etc, which about 80% of the facilities. To offer most requirement surgical sutures to the public healthcare system, most Authorities issuing tenders to save the cost, but the surgical suture still in higher price level in the tender basket while qualified quality was chosen. Under this condition, more and more administration starting set the policy for local production, and this makes more and more requirement on the supplying of sutures needles and thread() in quality. In the other side, there are not that much qualified supplier of these raw materials to the market due to the huge investment on machines and technical. And most suppliers cannot offer in quality and performance.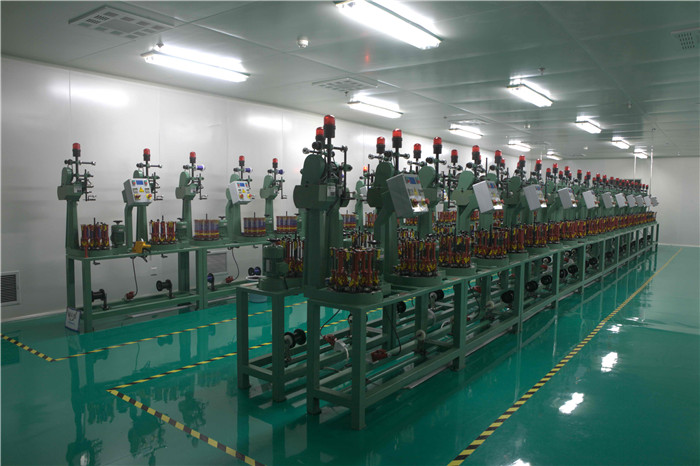 We have made the investment to get the most advantage on machines and technical when just established our business. We are keep opening to the market quality and performance sutures as well as the elements for production of sutures. These supplies brings less spoil-rate and higher output to the facilities with a much reasonable expenses, and helps every administration to get cost-effective supply from local sutures. Non-stop supporting to the industrials makes us standing stable in the competition
Write your message here and send it to us