Supramid Nylon Cassette Sutures for veterinary
Product Detail
Product Tags
Supramid nylon is the advanced nylon, which widely used for veterinary. SUPRAMID NYLON suture is a synthetic non-absorbable sterile surgical suture made of polyamide. WEGO-SUPRAMID sutures are available undyed and dyed Logwood Black (Color Index Number75290). Also available in fluorescence color like yellow or orange color in certain conditions.
Supramid NYLON sutures are available in two different structures depending on suture diameter: Supramid pseudo monofilament consists of a core of polyamide 6.6 ([NH-(CH2)6)-NH-CO-(CH2)4-CO]n) and a sheath of polyamide 6 ([NH-CO-(CH2)5]n), ranging from EP sizes 1.5 to 6 (USP sizes 4-0 through 3 or 4); Supramid monofilament is made of polyamide 6 with a range from EP sizes 0.1 to 1.(USP sizes 11-0 through 5-0). In most scene, Supramid Nylon means the pseudo monofilament structure.
Cassette sutures is a traditional devices for Veterinary, Wego Supramid Nylon Cassette sutures provides economic sutures for bulk surgery. Available in Dry pack or filled-with-liquid to meet different requirements. The liquid can make the Supramid thread soften and more easier on knot. The Wego Supramid Nylon Cassette can fit in the standard cassette Rack that convenient to carry and move in the field.
Supramid NYLON suture is indicated for use in general soft tissue approximation and/or ligation, especially used in farm. In order to meet Pet-Clinic market, WEGO also offered fluorescent color supramid nylon, not used in cattle, horse but also on cats and puppy. The fluorescent color quite smart and shinning in the furs and convenient the veterinary to locate and remove after healing.
Features of Supramid pseudo monofilament
-surface smooth similar with Monofilament, no sawtooth effect on tissue
-Soft like multifilament
-Easy tie down than multifilament
-Higher knot security than Monofilament
-High tensile strength
Features of Supramid monofilament
-Smooth surface and soft
-High tensile strength
WEGO Supramid Nylon Cassette has sold many countries, including Italy, Poland, Germany, United States, and Australia …….
Most fast-running Supramid cassettes codes in dry pack used in veterinary are :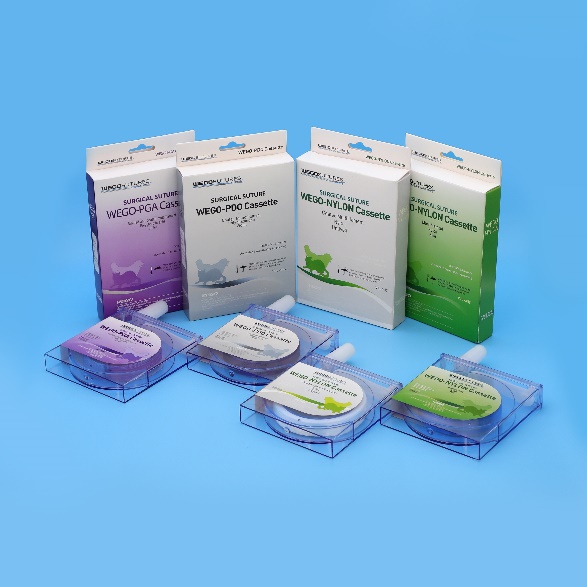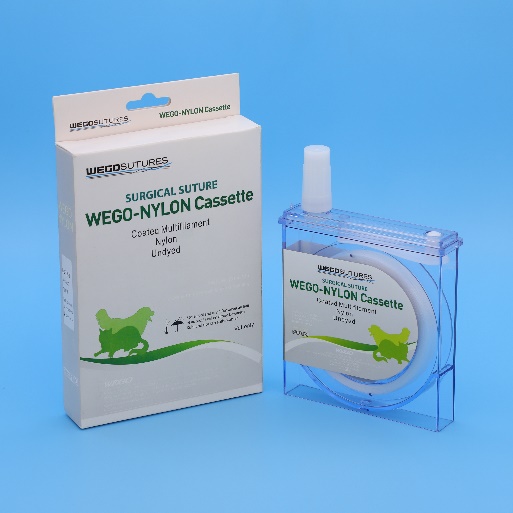 ---
---
Write your message here and send it to us