WEGO Sutures Recommendation In General Surgery Operation
Product Detail
Product Tags
General surgery is a surgical specialty that focuses on abdominal contents including the esophagus, stomach, colorectal, small intestine, large intestine, liver, pancreas, gallbladder, herniorrhaphy, appendix, bile ducts and thyroid gland. It also deals with diseases of skin, breast, soft tissue, trauma, peripheral artery and hernias, and performs endoscopic procedures such as gastroscopy and colonoscopy.
It is a discipline of surgery having a central core of knowledge embracing anatomy, physiology, metabolism, immunology, nutrition, pathology, wound healing, shock and resuscitation, intensive care, and neoplasia, which are common to all surgical specialties.
WEGO sutures are suitable for different parts involved in general surgery according to the characteristics of each part to suture the wound.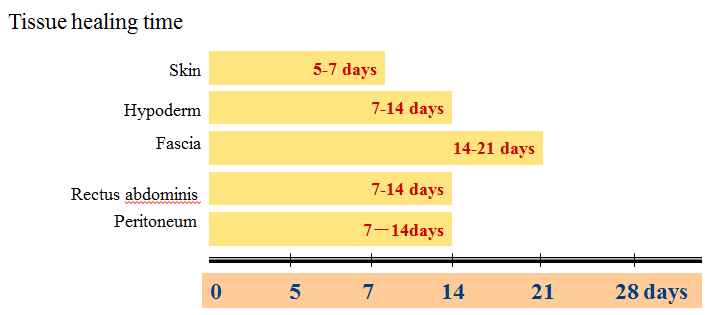 According to different tissues healing time, WEGO PGA sutures are the best solution. Its material is synthesis of poly (ethylene glycol). The absorption period is within 28-32 days, during the 60-90 days, all the materials are absorbable. The construction method is multifilament braided with polyglycolic acid coated which is around one main line, multiple strands of cross weaving. So it could increase the tenacity of suture, pulls stronger, slides through the tissue easily and knots tightly.
WEGO sutures for Abdominal Closure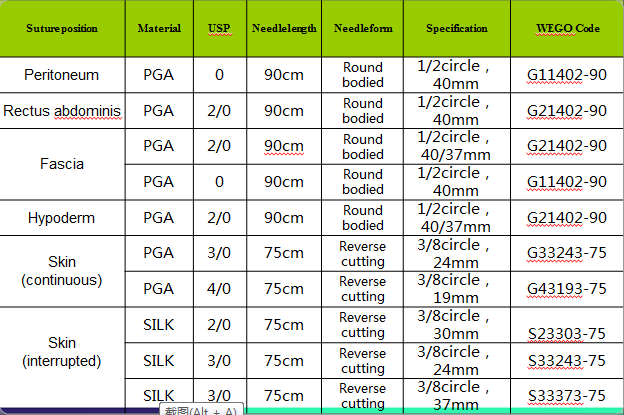 And also WEGO has special packing for interrupted sutures for thyroid, appendix, gastrointestinal surgery, urology surgery. Their advantage is to avoid the single needle puncture force to weaken and to avoid single needle infection caused by multiple stitches.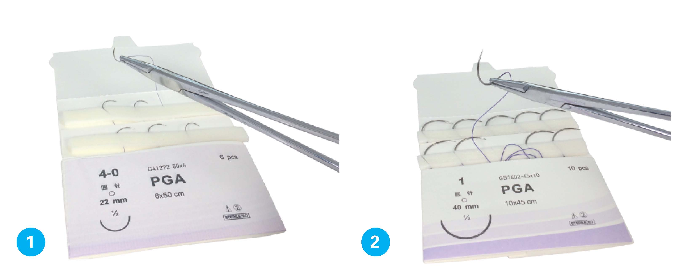 WEGO Polypropylene sutures are suitable for liver surgery. It's made of 100% polypropylene, monofilament, no loss of tensile strength. And the most importment point is that it's slipping without dragging injury. Suture vessels inertia is not easy to cause infection. It could tie 6-8 knots. When WEGO blunt point needle passes through the liver, bleeding and wound are minimized.
WEGO sutures for Liver surgery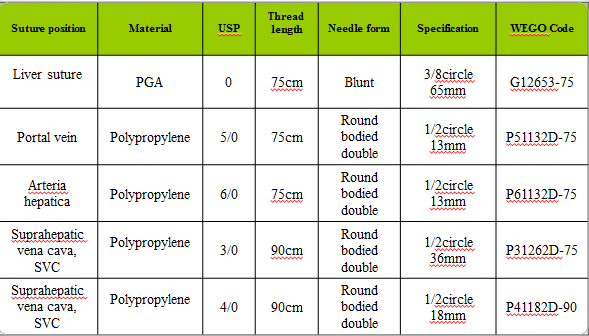 Liver Needle-type:Blunt point
It is mainly applied to the liver, spleen suture and clinically known as liver acupuncture, blunt scalp acupuncture, round head needle.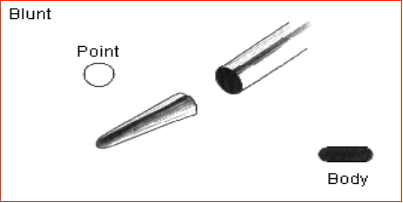 ---
Previous:
Surgical Suture Threads Produced By WEGO
---
Write your message here and send it to us