Self-adhesive (Non-Woven) Wound Dressing for Single Use
Product Detail
Product Tags
Brief Introduction
Jierui Self-adhesive Wound Dressing is CE ISO13485 and USFDA accredited/approved wound dressing. It is used for various types of postoperative suture wounds, superficial acute and chronic wounds, wounds with severe exudate at burn wounds, skin grafts, and donor areas, diabetic foot ulcers, venous stasis ulcers and scar ulcers and so on.
It is a kind of ordinary wound dressing, and has been tested and broadly regarded as an economical , low sensitivity, convenient and practical dressing for a wide range of applications by the market .
Jierui self-adhesive wound dressing inherits WEGO group's principle of pursuing development with high quality.
Weihai Jierui Medical Product Co., Ltd was established in 1999 and is a subsidiary high-tech enterprise of Shandong WEGO group medical polymer products Co., Ltd. (Hong Kong stock listed company, stock code HK01066).
Reasonable design for product structure:Central pad and surrounding tape
Central pad: highly absorbent pad with polyester wound contact layer to accelerate the absorption of blood or exudate, without viscosity to reduce the damage and minimize the pain on dressing removal.
Surrounding tape:
The low allergy polyacrylate adhesive is evenly spread onto the non-woven backing surface of tape providing a safe and secure dressing fixation over the wound surrounding.Rounded corner design, not easy to fall off.
Meanwhile can maintain the breath of surrounding skin,improve the comfort of patient, though the viscosity of tape is strong to fix the dressing to the wound,but it won't directly contact or stick to the wound.
Non-woven material together with the central highly absorbent pad forming a clean breathable and bacteria-resistant environment, accelerate the healing of wound.
Ease to use
The protector paper which is slit across the width of the dressing, enables quick application without the risk of touching the absorbent pad or adhesive area with fingers or forceps. The easily opened individual sterile package could be carried and used conveniently at home or hospitals.
Notes
1.The product is for one-time use,not to be used by individuals with a known sensitivity to the product.
2. The product is sterile, single packing damage is prohibited to use.
3. The thick pad minimizes fluid strike-through and helps to avoid contaminating clothing. 
4.Choose suitable dressing according to the wound size and dressing pad size. All kinds of sizes, ensures patient comfortable and conformability to all wound sites (even the more difficult areas such as shoulders and axillae).
5.Change the suitable dressings according to your institution's protocol and advice.
Storage Condition & Shelf Life
Self-adhesive wound dressing for single use should be stored in cool, dry and ventilated environment. Avoid
direct sun light. The shelf life is 3 years.
Jierui wound dressing includes ordinary dressing and advanced dressing. In the ordinary dressing,except the Self-adhesive (non-woven ) Wound Dressing, there are also transparent film, surgical films, woundplast and so on.
Jierui Advanced wound dressing series were developed since 2010 as a new product line with plans of researching, developing, producing, marketing and sales. Our goal is to establish and maintain a high-level functional dressings market such as Foam Dressing, Hydrocolloid Dressing, Alginate Dressing, Hydrogel Dressing.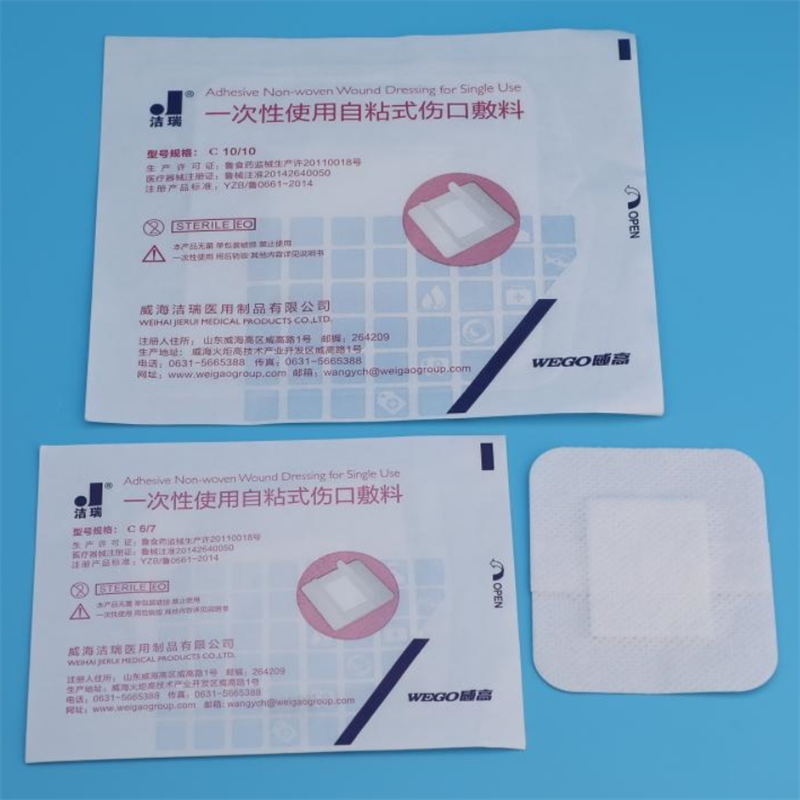 ---
Previous:
WEGOSUTURES for Ophthalmologic Surgery
---
Write your message here and send it to us