The most complete varieties and certificates Surgical Sutures brand in China
Product Detail
Product Tags
Wegosutures is the most complete surgical sutures brands and manufacturer in CHina, we have 16 varieties of surgical sutures available now
Our production series can meet all kinds of wound closure surgeries with high quality and moderate price. Product size ranged from USP 12/0 till USP 7#
We have the most complete certificates including CE,FDA 510K,ISO series, Halal, MDSAP certificates for almost all our surgical sutures!
Our CE certificates cover 14 categories of surgical sutures with 10 as Class III, FDA 510K covers 12 types of surgical sutures, our ISO13485 covers 16 kinds of surgical sutures with the needles and non-sterile sutures thread.
These certificates and registration running annual inspection or Audit that makes our full Quality system and Production under the surveillance from Authorities globally. This secured the consistence on performance and quality.
Covered by the Product Liability Insurance by Swiss Banks from 2009, the stability of our sutures and the effectiveness of Quality Assurance System already approved by the over 20000+ hospitals and clinics globally.
Trust these notified bodies and certificates, trust WEGOSUTURES, trust WEGO quality!
Select WEGOSUTURES, select successful cooperation!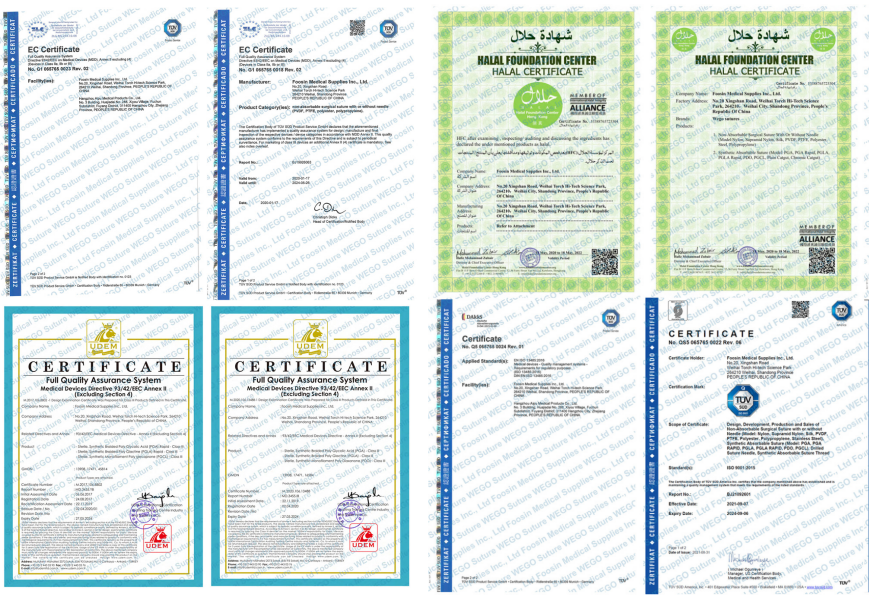 WEGOSUTURES Certificates
| | | | | | | | | | |
| --- | --- | --- | --- | --- | --- | --- | --- | --- | --- |
| SR No. | The Product Name | Material | CE | FDA | ISO13485 | ISO9001 | ISO14001 | HALAL | MDSAP |
| 1 | WEGO-PGA | 100% Polyglycolic Acid | Yes | Yes | Yes | Yes | Yes | Yes | Yes |
| 2 | WEGO-PGLA | Poly(glycolide co lactide)(90/10) | Yes | Yes | Yes | Yes | Yes | Yes | Yes |
| 3 | WEGO-PDO | Polydioxanone | Yes | Yes | Yes | Yes | Yes | Yes | Yes |
| 4 | WEGO-PGA Rapid | 100% Polyglycolic Acid | Yes | Yes | Yes | Yes | Yes | Yes | Yes |
| 5 | WEGO-PGLA  Rapid | Poly(glycolide co lactide)(90/10) | Yes | Yes | Yes | Yes | Yes | Yes | Yes |
| 6 | WEGO-PGCL | Poly(glycolide-co-caprolactone)   (PGA-PCL) | Yes | Yes | Yes | Yes | Yes | Yes | Yes |
| 7 | WEGO-Polyester | Polyethylene terephthalate | Yes | Yes | Yes | Yes | Yes | Yes | Yes |
| 8 | WEGO-Polypropylene | Polypropylene | Yes | Yes | Yes | Yes | Yes | Yes | Yes |
| 9 | WEGO-NYLON | Polyamide 6 and 6.6 | Yes | Yes | Yes | Yes | Yes | Yes | Yes |
| 10 | WEGO-SILK | Silk | Yes | Yes | Yes | Yes | Yes | Yes | Yes |
| 11 | WEGO-PTFE | 100% High-density polytetrafluoroethylene(PTFE)  polymer | Yes | Yes | Yes | Yes | Yes | Yes | Yes |
| 12 | WEGO-Supramid Nylon | Polyamide 6 and 6.6 | Yes | In process | Yes | Yes | Yes | Yes | Yes |
| 13 | WEGO-PVDF | Polyvinylidence Fluoride | Yes | In process | Yes | Yes | Yes | Yes | Yes |
| 14 | WEGO-Stainless Steel | Stainless Steel | Yes | Yes | Yes | Yes | Yes | Yes | In process |
| 15 | WEGO-Chromic Catgut | Chromic Catgut | In process | In process | Yes | In process | Yes | Yes | In process |
| 16 | WEGO-Plain Catgut | Plain Catgut | In process | In process | Yes | In process | Yes | Yes | In process |
---
---
Write your message here and send it to us