WEGO Nylon cassettes for veterinary use
Product Detail
Product Tags
WEGO-NYLON Cassette sutures is a synthetic non-absorbable sterile monofilament surgical suture composed of polyamide 6 (NH-CO-(CH2)5)n or polyamide 6.6[NH-(CH2)6)-NH-CO-(CH2)4-CO]n. Are dyed blue with phthalocyanine blue (Color Index Number 74160); Blue (FD & C #2) (Color Index Number 73015) or Logwood Black (Color Index Number75290).
The Cassette suture length is available from 50 meters to 150 meters by different size. Nylon threads have excellent knot security properties and can be easily removed with no tissue adherence. These sutures are infection resistant due to the less room that microorganism stay, are indicated for use in general soft tissue approximation and/or ligation.
Our suture threads are all meet USP/EP standard and all testing equipment meet its standard. In order to make the all products qualified, we test each thread's diameter, and tests each batch's knot-pull strength of suture during the process. To make sure final product's knot-pull strength meet USP/EP's standard, the processing standard is 30% higher than USP standard.
WEGO-NYLON Cassette sutures pass through tissues easily and since the suture is monofilament knotting is little complicated than multifilament suture, which usually need at least 8 knots to keep the security. The tissue adherence to the suture is absolutely nil. Our NYLON thread has excellent knot security and it has easy knot placement. Besides, the excellent tensile strength and the sutures do less elongate while knotting are all loved by our customers.
There are several color available, which is Blue, Black,undyed and fluorescence color. The Fluorescence color mostly as yellow or Valcano orange color, which is very smart and easy to locate in the dark color fur of animals.
WEGO Cassette was designed to conformity with the leading brand in size, which fit to the installation on most standard size Cassette Rack. This leads the convenient usage while the veterinarian in the filed since there must use several different cassette sutures during the most scene. The Sterilization of WEGO-NYLON Cassette sutures including EO gas and Radiation by Electric Beam, the whole cassette was made by very special medical grade material can fit the requirement of both sterilization method. The precision and hi-tech machines firmed the cassette very strong, it can keep internal as sterilized in almost 30 days after open
Currently the WEGO-NYLON Cassette is becoming very popular product as the love of the veterinarian by it safety and economic.
Care your pet by using our WEGO-NYLON Cassette threads.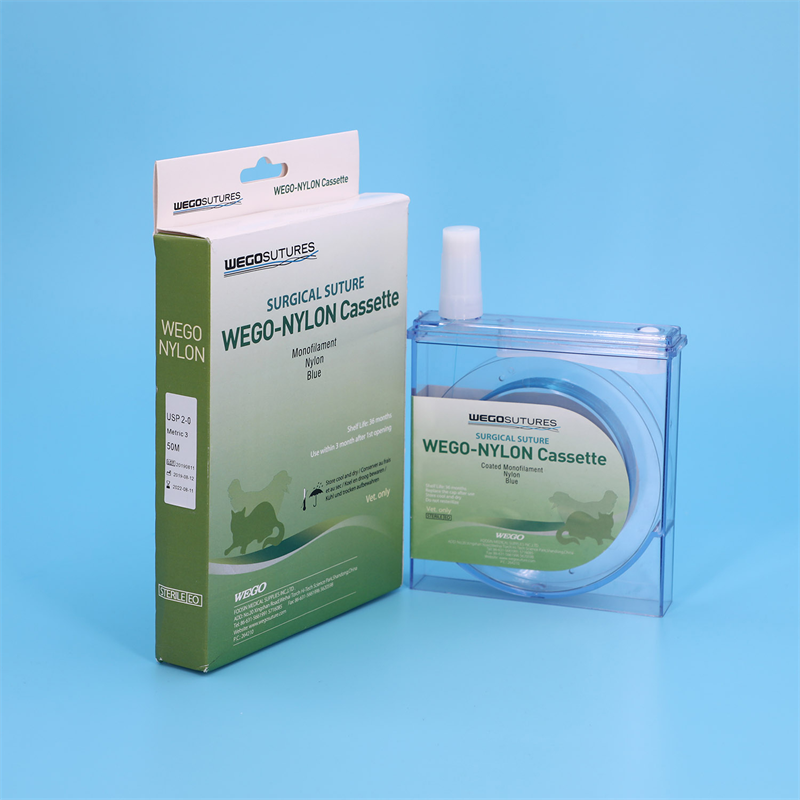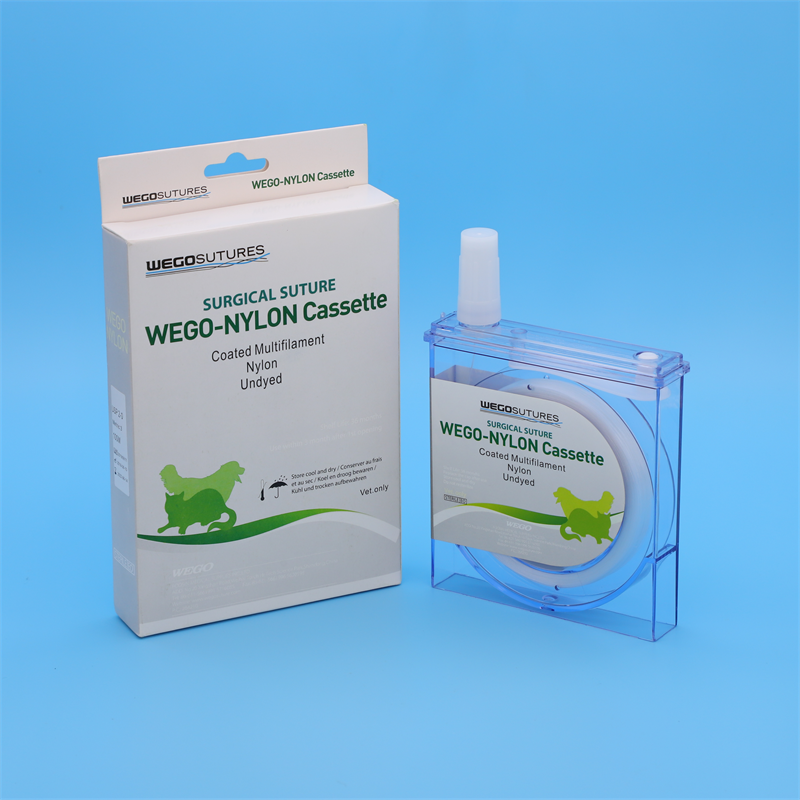 ---
Previous:
PGA cassettes for veterinary use
---
Write your message here and send it to us